Phoenix Semiconductor to turn PHL factory into Southeast Asia flagship post IPO
JUL 01, 2014 BY: DANESSA O. RIVERA, GMA News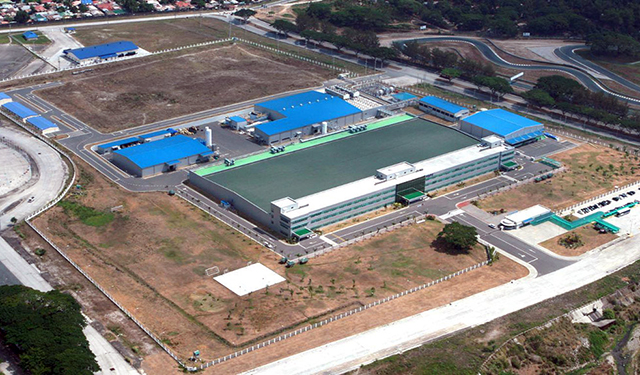 This aerial photo shows the existing Phoenix Semiconductor factory in Clark Freeport Zone and the empty lot behind it where the new facility will rise. Phoenix Semiconductor Philippines

(Updated 4:28 p.m.) South Korean STS Semiconductor & Telecommunications Co. Ltd. is positioning its factory in Clark Freeport Zone to be the flagship manufacturing facility for memory chips in Southeast Asia following a planned initial public offering on the Philippine Stock Exchange (PSE).
Phoenix Semiconductor Philippines Corp. is using proceeds from the IPO, estimated at P2.65 billion, to expand its manufacturing plant in Clark Freeport with a view to meeting the requirements of smartphone makers outside its premier customer Samsung Electronics.
"As far as the memory chips are concerned, Philippines will be the largest and most important manufacturing base," Phoenix Semiconductor vice president and CFO Kim Dong Joo told GMA News Online. "That's the strategy we now have. And that's the reason why we want to expand our facility here.
"We're currently the largest in the memory chip maker in Southeast Asia and our position will be strengthened as the producer of memory in Southeast Asia [with the expansion]," he added.
Parent STS Semiconductor is part of South Korea's Bokwang Group, with exposures in various business interests: leisure, financial services, semiconductor and telecommunications, and advertising and culture.
The Philippine unit is now developing Phase 2 of the factory in a 15-hectare site in Clark Freeport, 80 kilometers north of the capital Manila. The new factory will initially produce 40-million smartphone memory-chip units per month, with space to increase the capacity to 60 million.
The existing facility in Clark Freeport Zone now produces 60-million memory chips per month, mainly for computers, laptops and servers.
Kim said the design and planning for the expansion will start this third quarter and the construction for a new building – which will take six months to complete – will commence early next year.
The expansion will allow the company to serve more clients apart from Samsung, Kim noted. "Currently we're only supplying to Samsung. In Phase 2, we will try to cater to other players," he said.
Phoenix Semiconductor holds a six-year supply contract with Samsung Electronics Co. Ltd. until 2017.
"We already have consent from them. To them, this won't be a problem so we will be able to serve multiple companies and products," Kim said.
Asked which smartphone manufacturers are they targeting, the company official said discussions with prospective customers are done by the headquarters' marketing team.
Half of the amount will come from internally-generated cash, $50 million from debt and the balance from the proceeds of its planned IPO, Kim said.
Phoenix Semiconductor expects to be listed on the PSE by late August or early September, he said. "Through this IPO, our financials will be healthy and sound."
The company will be the third to list on the PSE this year. It will float 706.816 million shares at an IPO price of P3.76 per share to raising P2.65 billion. – VS, GMA News
---
SOURCE: http://www.gmanetwork.com/news/money/companies/368096/phoenix-semiconductor-to-turn-phl-factory-into-southeast-asia-flagship-post-ipo/story/